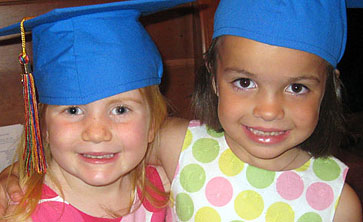 GRASSHOPPER PRESCHOOL CLASSES
Session 1:
Tuesday, Wednesday, Thursday
9:00-11:30
Session 2:
Monday, Wednesday, Friday
9:00-11:30
SESSION 3:
Monday, Wednesday, Friday 12:30-3:00
The amazing four year olds who are the busiest, noisiest, and most active age group at Joyful Noise, are just perfect for our Grasshopper classes. Larger rooms and more open area allow them to explore their new independence, their developing muscles, varied interest, and their new found ability to make plans for both their work and play. This age group is ready for group life and companionship of which, the 16 student class size allows.
With flexibility provided by the accommodating Grasshopper staff, these children can express their needs while obtaining the structure, routine and academic skills necessary for a successful transition to kindergarten.
The brightly colored and imaginative classroom invites the fours to explore. The classroom is divided into 10 specific interest areas. Blocks, arts & crafts, discovery, music, sand & water, technology, dramatic play, cooking, library, toys and games.
All concepts are introduced at Circle Time, then the children explore these concepts in the various interest areas, using as many of their senses as possible, all while having fun.