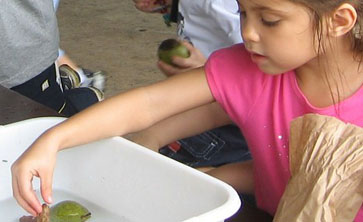 FREQUENTLY ASKED QUESTIONS
Do you have an Open House for interested parents?
No, we do not have a formal Open House for interested parents.  We invite interested families to come anytime to visit our preschool. The director will give you a short tour of the facilities and answer any questions that you may have concerning the preschool, curriculum, discipline, safety, etc. You are then invited to spend time in the classroom your child would be entering.
When do I register my child?
As soon as possible.  We presently have openings in the Grasshopper 3 class for the 2018-2019 school year. This four-year-old class takes place Monday, Wednesday and Friday from 12:30 to 3:00. We also have openings in our Young 3's Caterpillar Classes. 
What are the steps involved in having my child enrolled in Joyful Noise Preschool?
Please contact the preschool via telephone 717-764-9467 to set up a visit.
Submit registration forms, signed tuition agreement, registration fee and authorization forms for automatic tuition withdrawal.
If accepted, you will then have 30 days to submit immunization records and payment one of Option 2.
You will then be invited to attend the Classroom Open House scheduled for May, 2018, to meet and greet your child's fellow classmates.
Do the children need to be potty trained before starting preschool?
Children do not need to be potty trained for any of our early childhood classes.  They do, however, need to be potty trained for our creative classes.
What are Creative classes?
Joyful Noise offers creative classes that can be taken as an individual class or in addition to a preschool class.
We offer Arts Everywhere. This is a class that is three and one half hours long, which includes the aspects of fine arts; music, drama and visual arts. These classes are theme based and quite educational, as well as a lot of fun for the children. The art classes encompass both the study of some great artists, as well as numerous techniques. The children experience the use of a variety of mediums, from tie-dying to photography, from painting to sewing, from making paper to using paper, the class experience is endless. The children will move, sing and dance to numerous types of music. They will create instruments and use some everyday items to make music. Role-playing is a large part of this experience from camping in the woods to living in the Arctic. Puppetry is also used and created by the children.
Another creative class that we offer is FLEX (Fun Learning thru Experiences). This is a three and one half hour program to provide an intro to STEM for the preschooler.