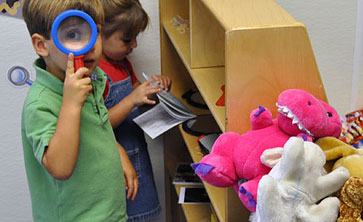 Welcome to Joyful Noise Preschool of Zion Lutheran Church!
I extend to your family a warm welcome from our Joyful Noise Family. Our goal is to provide all of our students with a strong foundation for their educational journey. We do this through a curriculum focused on their social-emotional, physical and intellectual growth. We want their years to be filled with exploration, creativity, social interaction and positive self-images as they proceed through a developmentally appropriate curriculum.
The Christian environment of Joyful Noise will provide a safe, comfortable and dependable atmosphere where your child will feel secure and flourish.  Joyful Noise will help your child appreciate and respect God's gifts to all of us.
Our dedicated teaching staff is committed to ensuring that your child has the tools needed to lay their educational foundation. During your time at Joyful Noise, there will be an open triangle of communication between the child, parent and teacher at all times. Many times, this relationship continues long after your child graduates to elementary school. We truly enjoy the time spent with your family, and consider you a member of the Joyful Noise Family. As such, we like to see how "our kiddos" are doing from time to time.
It is my mission to make sure that your family is having the best possible experience here at Joyful Noise. It is a privilege for me to help you in any way I can. I look forward to the exciting years together as we watch your child learn and grow.
Sincerely,
Arieta Beamesderfer
Director, Joyful Noise Preschool